With your pending nuptials in sight, the New York series continues as Andrew Zornoza takes you through all the important steps in getting married in the city that never sleeps.
A Wedding Guide for Grooms in New York
by Andrew Zornoza
Yogi Berra is one of few baseball players whose fame somehow eclipsed his actual playing ability. He was the ultimate bad ball hitter, threw out quite a few runners despite an average throwing arm, and had a penchant for quotations.
In an abstract sense, Yogi was very similar to Zsa Zsa Gabor. Zsa Zsa managed to sleep with a battalion of rich men, took them for all they were worth once divorce proceedings started, and also had countless interesting things to say about the sport of her choice.
Zsa Zsa on marriage: You never really know a man until you have divorced him.
And: I know nothing about sex because I was always married.
And: Husbands are like fires—they go out when unattended.
Getting married in New York is daunting. Everything is expensive, there are headaches, crowds, subway closures, $6 bottles of water: your ego will undoubtedly be tromped upon.
What follows is some advice for the curious bride, the gentleman looking for sartorial advice and, most importantly, the NYC groom.
YOUR RING

Plopping down $300-$10,000 on a ring is scary. Especially when it's likely your fiancée is simply going to return it and pick out her own. This may lead you to choose one of the larger chain jewelry stores. Even if she does return the ring, picking it out from a classy and chic boutique shows you have style.
First thing to do is get your girlfriend's ring size. Use guile and cunning (sleeping gf works well).
Second, analyze the jewelry she wears already: is it quirky? sleek and contemporary? does she favor gold over silver? classic or postmodern?
a classic ring
Picking a metal is not everything, but it will narrow your choices. Platinum is everywhere these days—but that doesn't mean you have to go that route. High quality 18k gold comes in white, rose, and yellow tints; any of which may better complement her skin tone. And gold is cheaper than platinum.
Decide on your price range, decide on a metal, and then hit the stores, looking for shops that match her aesthetic.
Here's some specific suggestions for pleasant jewelry shopping:
Karen Karch on Mulberry Street tastefully steers away from schlocky designs. Eponomously named, Mrs. Karch crafts rings out of a variety of 18 carat golds and platinum. Many of her rings are hammered or hand textured; purposeful irregularities give them a wonderful handmade aspect.
They can seem slightly gothic—forged in Mordor, if Mordor was a place filled with artsy hobbits rather than orcs. The store displays may seem underwhelming— there's not that many rings to choose from; if your fiancee likes sleek, clean lines you may also want to skip Karen Karch.
Karen's rings are understated and elegant, with just a touch of funk. Bonus: after popping the question you can name drop stars such as Gwyneth Paltrow and Kate Hudson who've been seen wearing Karen's work.
If you need help charming the skirt off your fiancee—take her in arm down the cobbled streets of Soho before the crowds start, ring the bell of a tiny studio at 63 Burberry, and then enter Jelena Behrend's quaint and cute jewelry workshop.
Everything about this store cries Parisian farmhouse chic—but no, that's my mistake, Jelena is Easter European, from Serbia, and she will help guide you to pick a suitable ring, or craft a unique design from scratch.
Beware, you can't just stop by: call for an appointment. Jelena's designs vacillitate between delicate and sturdy—pin-thin interlocking rings of gold sit next to a over-wide band of platinum—but all her styles show a wonderful handmade attention to detail. Jelena's rings can get pricey, but that's up to you: if you want a simple ring with a handmade flourish, you may be able to squeak by with something for under $500.
yao's wedding
If your girlfriend likes clean, no-nonsense, high-quality, almost German design—and if you have a little more cash than the average Joe (well maybe just a little more that the average reader here) you may want to give Stuart Moore on Mulberry a try. Their sales staff is annoying, but if you're patient and willing to ignore them until you're actually ready for help…well, after that, they can actually be helpful.
In Brooklyn, Debbie Fischer on Court Street is a nice store with a helpful, non-aggressive staff. There's a lot of beadwork and not that much wedding-worthy jewelry—but the designs are unique and there's some good quality here. Even though the work is Indian/East-Asian influenced, if your bride-to-be has a bit of Taos in her, a bit of new age look…well you may find the perfect piece at Debbie Fischer.
And if you're in the area, definitely drop by Swallow, a few blocks away on Smith Street. In the back of Swallow (it seems as if you're entering a verboten studio zone) there's a small upright box with some rings. If your budget is small, and your girl just needs something pretty and non-classical (say, a delicate hoop ring with a single ruby), Swallow has a nice selection that may set you back less than $100.
Erie Basin deep in Red Hook also has some cute and affordable alternatives. If the girlfriend is a little less serious, likes her jewelry simple and unobstrusive, then you may easily find something special in this small shop. There are some great rings here for less than $200 and a beautifully youthful Philip Crangi diamond ring is a gorgeous steal at $385. And if the ring gets returned, she will undoubtedly find some earrings to be happy with.
Located in mid-town, on 54th street, Aaron Faber has a good mix of vintage and new stuff. A good store to get you started, with a wide range of prices and designs.
Also north of Union Square: New York Wedding Ring. If you're a take-cooking-classes-together, do-yoga-together type of couple, this may be for you. Here you can make your own rings, in a supervised studio with private workshop instruction. There are a variety of metals to choose from and prices range from $1075 to $2250.
If you're not ready to make your own and looking for a vintage look with a bit of a rock and roll edge, try Catherine Angiel in the Village. It's another store with excellently crafted rings.
A couple notes: first, jewelry design is a billion dollar businesses, but swamped with bad designs. Don't feel bad going into jewelry stores and feeling like everything is expensive and god-awful. Even the good stores will have their share of Nefertiti inspired turqoise.
Second, I steer away from shops with desperate sales staff. I don't need to be sold a ring—I'm shopping for one, and it's going to be an annoyingly large chunk of my monthly pay (er, my annual pay)—if sales staff starts putting pressure on you, just ignore them.
Not a fan: Dinosaur Designs (designs look fun, but should be extinct), Fragments (ugh), Me & Ro (smacks of cultural appropriation, if you like Madonna and the first floor of ABC's furniture store on Broadway, you may want to give them a try).
YOUR CLOTHES
The most important thing about your wedding is that you, the Groom, looks good.
Some quick tips: at Barney's and other big stores, bring a best man. And bring a camera. Also, think about what you might want to splurge on. In my case, it was the tie—and a hot dog vendor at our pre-wedding softball game. For you, it might, be a pair of tricked out wingtips, a snazzy tailored shirt, a belt with your name on it in faux diamonds, some silk Zegna boxers, or (if you have plenty of cash) a bespoke suit.
If you have more than $5000 to spend on your attire you can splurge on everything. If you have less than that (and you can look fantastic for $700—head to foot), pick one item that'll give you some extra mojo on the big day.
Also, when you shop, bring what you've got with you. If you know what shirt you're wearing, but don't have a tie, bring the shirt along. It will make a world of difference when putting colors together.
Go to Barneys. Barneys has one of the world's greatest men's departments. And some great sales staff. Be unafraid and use Barneys kindly but mercilessly. At Barneys you can try on a jaunty Brit-style Paul Smith jacket, compare it to a sleek Italian Armani suit and then try on a Brooks Brothers All-American blazer. Then you can try on a $1400 pair of shoes and a $200 Brioni tie. This is clearly more fun with a friend.
Together, corner a highly experienced Barneys employee and get him to help you try on a few ensembles. Try the tux, try the white cowboy suit, try the raccoon fur underwear. After that, pat your sales helper on the back, take his business card, slip it behind your wallet, promise to return, and walk out the door and take your buddy to Prime-Burger—across from St Patrick's Cathedral.
You may very likely end up buying something at Barneys (I purchased my matching groomsmen's ties there), but it is more likely you won't. It's much more likely you will get the double Prime-Burger with fries. But at Barneys you can get a great idea of what looks good on you, what styles you prefer, and what colors you're looking for.
Finding a good sales guy is paramount and one of the great perks of Barneys. Always keep your eyes open for an employee who seems to be a part of your karass. If you get stuck with a Lenny Briscoe type who's showing you nothing good—move on, trade him for another.
brady quinn at sis' wedding
YOUR DRESS SHIRTS
Charles Tyrwhitt, on 44th and Park, is making one of the best value shirts in town. The shirts retail at $99 but seem to be permanently on sale for much less. Metal collar stays, decent stitching and good fabric put their shirt a notch above Pink, Brooks Brothers, and the horde of other shirtmakers found in the department stores.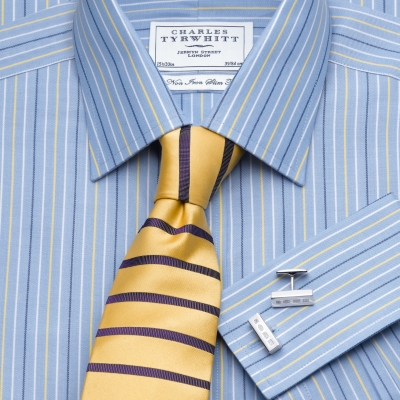 If your paunch is less than, say, Phillip Seymour Hoffman's, try to go with the slim-fit shirts. Always have someone size you up in the store. You want to have as little fabric as possible bunching up. Trust me, I'm large. But baggy doesn't help, especially under a suit.
If you're semi-splurging on a shirt, across the isle is Paul Stuart. For $150 and up, you will get a fine piece of tailoring. And if yours is a Tuxedo Wedding, Paul's has a nice selection of pricey but well made evening wear in the back of the store (expect to pay $1700-$3000, though).
Remember to get French cuffs. It's priceless having your sloshed buds trying to figure out how to put cufflinks on you 45 seconds before the ceremony. If your father or grandfather has some of their own ancient cuff links to lend, you can add a nice touch of history to your outfit.
Bespoke. If you haven't heard that term, bespoke means custom made. A tailor measures every little crook and cranny of your sweet self and then picks a fabric and makes a suit just for you.
If the idea of this intrigues you, go to Seize Sur Vingt in Soho. A sales staff that manages to be a deadly combination of slightly snobby, slightly cliquish and slightly hipster, isn't quite bad enough to turn customers away from this excellent shop. They will make you a sweet suit for $2000 and up.
That may sound like a lot, but a Zegna, Canali, or Armani will set you back just as much—and to be honest, a lot of the big names aren't that good these days, you're often paying through the nose for just decent (if not mediocre) quality. Seize Sur Vingt also always has a few interesting ties—and they make one of the best dress shirts in town, for $200+. Another good reason to check out Seize Sur Vingt is the off-the-rack suits they have left over: excellent quality and a good value. There's also Saint Laurie on the West Side.
If British-Jaunty is the style you're going for, make sure you check out Paul Smith near Union Square. Boxy jackets, pipe cleaner pants—his suits look good and are filled with interesting pimpish details: colorful liners, useful fasteners, interesting lapels. His shop is also an excellent place to shop for fun cuff links for you and your best men. A Paul Smith ensemble can be had for close to the $1200 mark.
If your wedding is super casual, or if you want some snazzy clothes for pre- and post-nuptial activities, I highly recommend Watts on Smith street in Brooklyn. Watts carries Penguin, Ben Sherman, Modern Amusement and all the other usual hip and not too expensive labels. Items go on sale often and the clothes are well chosen.
If you want a roughed up cordoruy sports coat, a fun seersucker jacket for the beach, or a smooth pair of slip on Vans for your feet: Watts is your place. Dogs are allowed in the store, if you're bringing your true best friend along. Watts is great for rehearsal dinner outfits.
If you need a good formal suit, but are trying to save some money, there's one clear winner: Linus. Linus is hands down the best menswear store in the city if price and quality are weighed equally.
The store is the size of a large closet and there aren't more than a dozen design to choose from, but the suits are of impeccable quality with nice proportions. And they can be had for $300-$500. Really, these German-made suits and tuxedos are superlative. If you were thinking about getting something off the rack at Men's Wearhouse, do yourself a favor: don't. Linus also has a nice selection of ties.
YOUR TIES
About ties. If you want to wear the fanciest tie in the world at your wedding, go to the ultra snobby Brioni outpost on 54th street. Pink is a good place to shop for ties, as is Barney's—both for the breadth of selection. Monochromatic, matching ties can really make your groomsmen look good—if, as with many wedding parties, they arrive wearing a hodgepodge of slightly different colored suits.
"I Feel Evil Creeping In" – Islands (mp3)
"Vertigo (If It's a Crime)" – Islands (mp3)
As for that outpost of New York City thrift, Century 21, my advice would be to skip it. Unless you need shoes. You can get some nice leather designer makes at C21 for less than half what you'd pay uptown. I also highly recommend staying away from Men's Wearhouse for most things, but it is also a good place for shoes—and belts. It's possible to get a perfectly acceptable pair of Johnstone Murphy cognac colored cap toes there for just over $100.
Remember that black isn't necessarily the best option when it comes to footwear. Any good Italian will tell you that. Black terminates your look—if you're not wearing a black suit, consider brown shoes.
YOUR HAIRCUT
If you have a guy on St. Marks who you trust, save your moolah and go to him. If not, I highly recommend making an appointment at John Allen's. This mini-chain has several locations in the city, although I favor the Trinity Place version. It's fifty bucks or so, but . . . well, how to describe it? There's beautiful women. There's beer; for free (well, it's included in the price). There's a pool table. There's ESPN. There's massages and manicures from the above-mentioned beautiful ladies.
If you missed out on a bachelor party, this is a great way to spend some pre-wedding time with a couple of your friends. And if you're by yourself: you'll be one happy little piggy.
What else? Remember to book your wedding location as far in advance as you can. Popular places like the parks and museums get booked way ahead of time. If you have a favorite place in the city, don't be afraid to ask.
Some restaurants like Frankie Spuntino's will host small wedding parties. And bars are often amenable to being taken over by 100 paying customers. By staying away from the usual suspects, you may save thousands.
And the wedding cake. Any time you drop the word wedding, stores will tack on an extra couple hundred dollars. A good caterer can turn a plain birthday cake into a marvelous wedding cake. Same goes with the flowers: avoid using the word wedding.
You've been warned.
And here's some parting words worth remembering from Zsa Zsa: Macho doesn't prove mucho.
Andrew Zornoza is the senior contributor to This Recording. He is in hiding. His first book, Where I Stay, is forthcoming from Tarpaulin Sky Press.
Pablo is This Recording's Fashion and Dance Consultant. He is a contributor of color. He is a Spanish Water Dog.
"Herd of Elephants" – Charts and Maps (mp3)
"The Sheriff Suspects Arson" – Charts and Maps (mp3)
"Pearl Divers of the Arabian Penisula" – Charts and Maps (mp3)
PREVIOUSLY ON THIS RECORDING
We totally wrote our name on that old tree but you never see.
Molly beat the meatles.
Rachel rags on Hampshire.
Science Corner changed all our lives forever.